Website Maintenance
Updates, maintenance, and continual improvements are essential for maintaining the security, performance, and search engine ranking for your website.
Test Your Website's Performance.
Maintain
Ensure that your site is well Maintained.
Monthly Web Care Report

Uptime Monitoring

24/7 Security Monitoring

Daily Performance Check

Weekly Backups (1-click restore)

Plugin & Database Updates
Advance
Knowledge is power, and this report is all powerful.
Everything in Maintain +

SEO Google Analytics Report

Keyword Rankings

Website Visibility Score 

Competitor Rankings
Web Master
To be the best, you need to work with the best.
Everything in Advance +

Website SEO – 1 keyword per month

4 Hours of Custom Web Development

8 Hour Response Time

1 Hour Monthly Meeting
Why Website Maintenance is needed.
Dream WebTec's Monthly Web Care Reports can help businesses keep track of their website's performance and identify areas for improvement. These reports provide valuable insights into the performance of a website, including traffic data, search engine rankings, and user behavior. By providing regular updates and insights, Dream WebTec can help businesses stay on top of their website's performance and make informed decisions about how to improve it.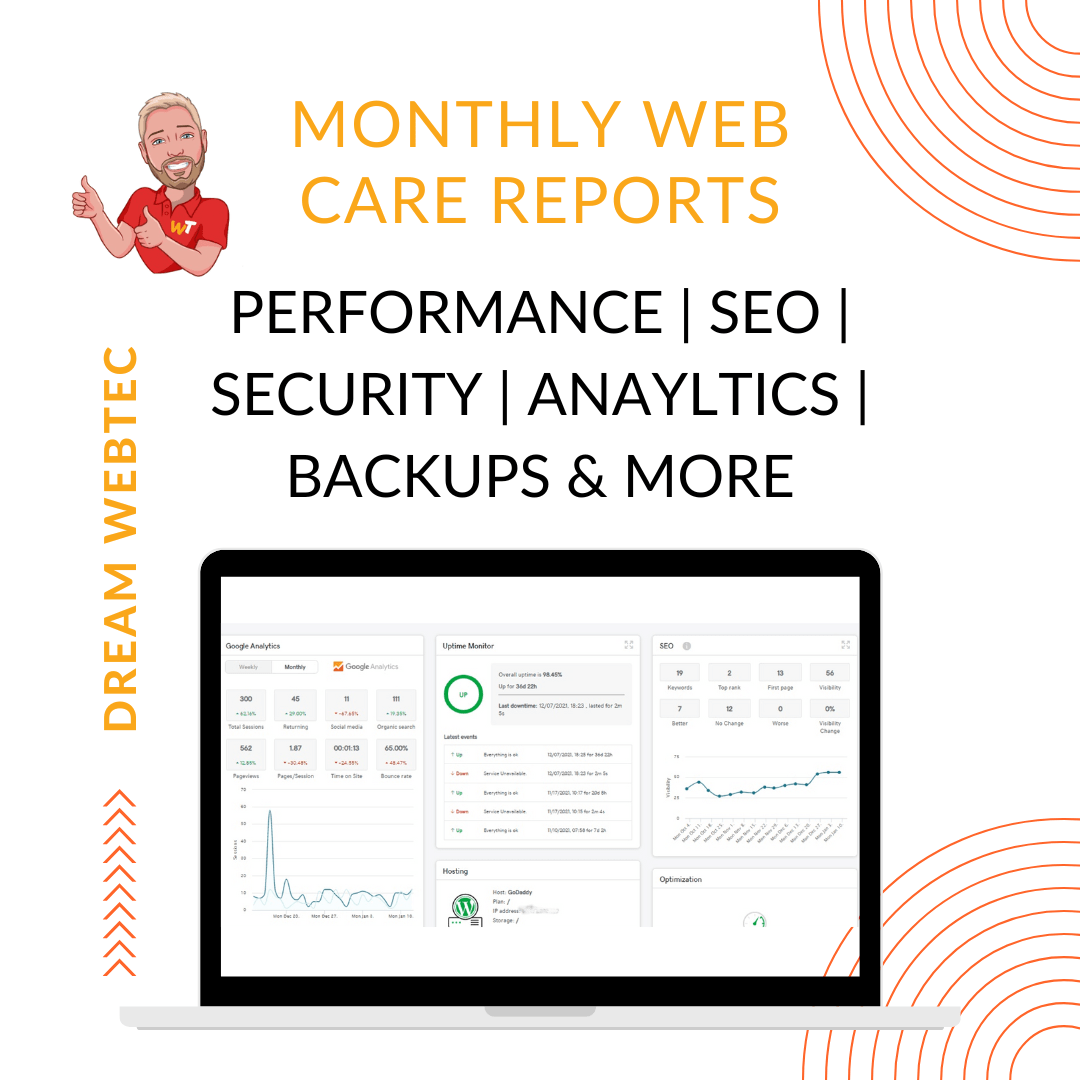 User experience: A well-designed and user-friendly website is essential for providing a good user experience. By making regular updates and improvements to the website, businesses can ensure that it is easy to navigate and provides the information and resources that users are looking for.
Continual improvements: A professional website's improvements are important because they can help to ensure that the website is effective and meets the needs of the business and its customers. As the business grows and evolves, it is important to regularly review and update the website to ensure that it is up-to-date and relevant.
Search engine optimization: Regular updates to a website can help to improve its search engine rankings. This is because search engines prefer websites that are up-to-date and relevant. By making regular updates, businesses can improve their search engine rankings and drive more traffic to their website.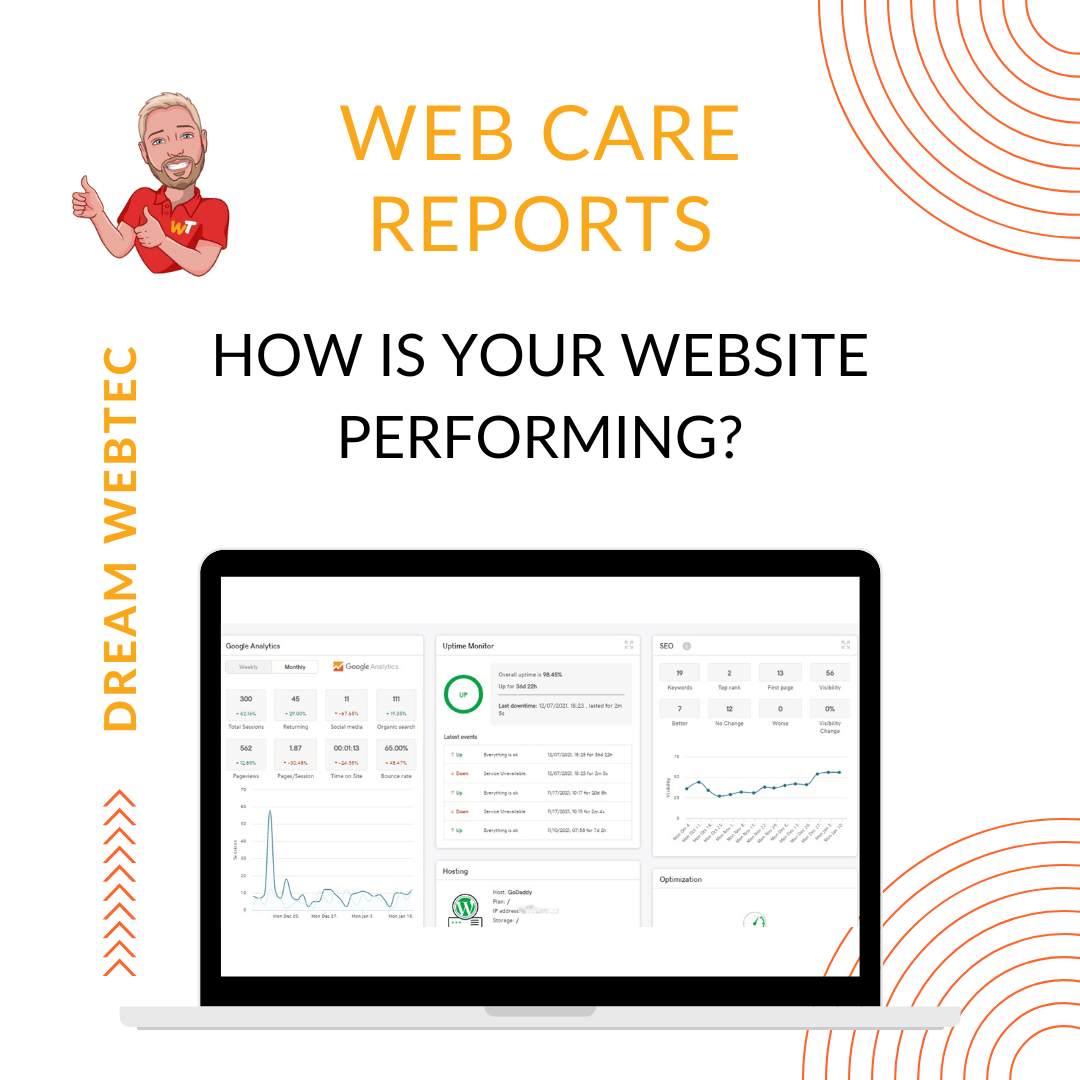 Keeping up with competitors: Other businesses in the same industry are likely also making updates and improvements to their websites. By regularly reviewing and updating their own website, businesses can ensure that they are keeping up with their competitors and providing a strong online presence.
Brand credibility: A professional and well-maintained website is essential for building brand credibility. By making regular updates, businesses can ensure that their website reflects the values and mission of the company and that it is visually appealing and easy to use.
24 / 7 U.S. Customer Support
Included in All Hosting Plans
Award Winning Customer Support
Our U.S. Customer Support Team is based in Sarasota, FL and are here to assist you in achieving your dreams through technology.
Partnerships Bring Success
Our partnerships provide the experience needed to help you achieve your dreams through technology.
Corporate Mailing Address:
229 S. Osprey Ave. Suite 202, Sarasota, FL 34236
Contact Phone Numbers:
Sales: (800) 910-1338 | Tech Support: (480) 624-2500
Customer Support Email: